Free out-patient clinic:
We are providing free medical facility to the slum dwellers of Malkajgiri at Plot.No.505. Defense colony, for the last 17 years. The center works from 9.00 am to 12am the center is manned with one M.B.B.S doctor, One A.N.M. one Attender and one lab attendant.
BIFURCATION OF CASES
| | | |
| --- | --- | --- |
| 1 | vaccines | 225 |
| 2 | Anemia cases | 850 |
| 3 | First Aid | 1875 |
| 4 | General | 1525 |
| | Total | 4475 |
2. MOBILE MEDICAL CARE UNIT:
We reach community to serve at their door step.
Mobile team is equipped with a part time doctor and nurse.
We engaged an AMBULANSE for this Purpose.
We are rendering services in the following Slums slums of
1. Malkajgiri 2. Kapra and other nearby villages.
In addition to that we are conducting specialist camps like eye camps, diabetic camps in the area.
Approximately 3 camps are conducted in different places per year.
We provide free urine and sugar test in our camps.
We have registered approximately 200-250 beneficiaries per year.
ANURAAG MOTHER AND CHILD HOSPITAL: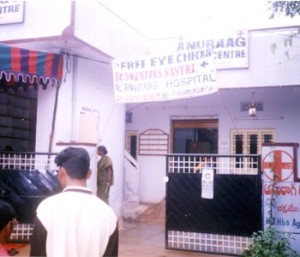 Aim:
To inculcate the good habits for safe motherhood.
To provide Basic Health facilities to villagers.
To create awareness about Health Education.
To Prevent Disabilities and to reduce the incidence of
Mortality.
To create confidence among the rural population.
To encourage for Institutional Deliveries.
We have launched this project in thumukunta village
March 1998.
We are having the following facilities in
Our Center.
1. out patient consultations
2. Laboratory
3. Operation Theatre
4. Beds (Inpatient)